Asus E500 G5 Workstation Review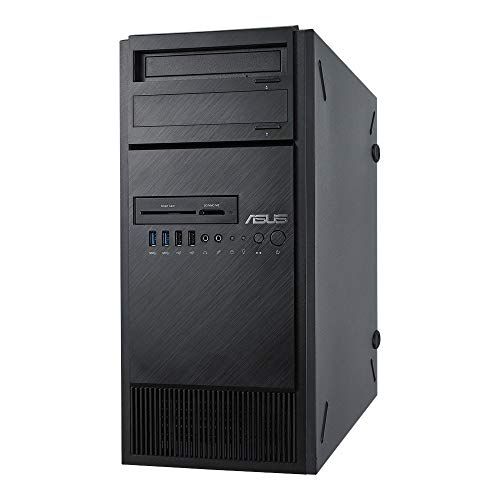 The Asus E500 G5 is a powerful workstation for the price, with a great design and plenty of features.
Workstation Asus E500 G5
US 1+
Score for Value for Money
8.5/10
Score for Specifications and Features
8.4/10
Pros
Workstation-grade specifications come in a variety of configurations.
Multiple GPUs are supported.
There are many growth possibilities.
a number of ports
ECC memory is very beneficial.
Cons
In this section, users must install several key components on their own.
It may be costly.
This is not intended for general use.
Only entry-level server CPUs are available.
Intel Core processors are a little out of date.
See the pricing and read the Review of the Asus E500 G5 Workstation. If you're familiar with pre-built desktops, you're probably aware that there are computers available that are more powerful than a gaming setup.
Workstations, such as the one we're looking at today, aren't intended for everyday use. These are designed for professionals and other applications that need a high level of hardware reliability.
Almost every major computer manufacturer, including Dell, HP, Asus, and even Apple, has a workstation that you can purchase.
The Asus E500 G5 is one of the 9th generation desktops on display today. One of its best features is that it isn't as large as you would imagine a workstation to be.
It also includes ECC memory, Xeon CPU choices, multiple-GPU capability, and a slew of other characteristics that a good workstation should have.
In terms of this one's setup, you just receive a Xeon E2200 CPU and the cabinet.
You'll need to install the many other required components, such as RAM, storage disks, and so on, in order to utilize it.
While it may seem unfair at first, the kind of modifications available on the desktop may be helpful as well.
ASUS offers a variety of hardware choices with which you may either customize the desktop at the time of purchase or select one and add anything you want afterwards.
However, since the typical user does not have the kinds of activities that the desktop is designed to do, this desktop should not be relevant to everyone.
Those of you who do need it, on the other hand, must consider it as a possibility.
Asus E500 G5 Workstation Price & Variants
Create a Price Drop Alert for Free!
Set an alert for $493.76 for ASUS E500 G5 9th Gen Xeon E-2200/Core Workstation, Dual Intel GbE LAN with Teaming Function
Asus E500 G5 Workstation Review
Buy it for: Workstation-level performance and a wide range of upgrade options | With a Xeon CPU, this is one of the finest desktops available.
Be wary of: It's possible that it'll cost you a lot of money.
Students in engineering and for other reasons are the best candidates.
Verdict
The ASUS E500 G5 isn't the kind of computer you'd use to play games or edit videos for social media. Instead, it can provide the level of dependability and security that is required for professional use. Despite the fact that it is entry-level, it is unquestionably an excellent workstation.
Design and Construction
One of the requirements of a workstation is that it be simple to maintain.
ASUS has been in the industry long enough to understand this, and their workstations are built with this in mind.
Because the E500 G5 is primarily a workstation, accessing its internal components is simple.
The chassis is available in black and is said to be very robust. We don't know how long it will last since physical testing isn't our strong suit.
However, it is constructed better than the typical desktop, including those from other manufacturers including ASUS.
Not just the chassis, but also the motherboard and PCIe slots have been given more protection and durability.
As a result, you can keep the costly GPUs or other components on your PC secure.
It also includes several unique features, such as the system lock, which enables you to secure the chassis.
This eliminates the possibility of any internal component posing a danger.
There's also the intrusion alarm, which alerts you if the chassis has been opened.
Although the average user may not need such protection, these features are very useful when dealing with sensitive data.
You'd notice a number of connections, buttons, and LEDs on the front panel, as well as an optical drive if you wanted one.
Performance
The model we're looking at is one of several that ASUS officially offers.
The ASUS G5 is available with either Xeon processors or Intel's 8th generation CPUs, which are more consumer-oriented and lack ECC memory support.
Because this is an entry-level workstation, the Xeon choices are restricted to a few Xeon E-Series processors.
The Xeon E-2200, an 8 core, 16 threaded server-grade CPU, is included in this version.
The basic clock frequency is 4.0 GHz, with a peak frequency of 5.0 GHz.
These CPUs aren't equipped with integrated graphics, and the desktop isn't equipped with a separate GPU.
It does, however, accept several video cards, and you can even buy one of the professional ones.
High-end dedicated video cards are available from both NVIDIA and AMD for professional applications such as sophisticated video production, 3D rendering, CAD, and other similar tasks.
These are only feasible at workstations like this, and they're much too hefty for most PCs.
You may also utilize the desktop for other tasks that demand a lot of graphics power if you have a good enough GPU.
Certain things in the financial industry, such as machine learning, depend more on core count, system stability, security, and other factors, all of which are there in plenty in the ASUS E500 G5.
It also has an ISV accreditation, so you should have no trouble working with AutoDesk software. With this, ASUS includes both the Home and Pro versions of Windows 10, with the latter being preferred for usage with this desktop.
So, without a question, this is one of the finest desktops with a Xeon CPU available today.
Connectivity and ports
The E500 G5 features a USB 3.0 port, a USB 2.0 port, two slots for headphones, and a microphone on the front.
A card reader is also available, which supports a variety of portable, card-based storage devices.
The 8-channel audio port is located on the rear, along with two USB 3.1 Gen 2 connections (one of which is USB Type-C), four USB 3.1 Gen 1 connectors, and two Ethernet interfaces.
The desktop can support up to three monitors at once, with one HDMI, DisplayPort, VGA, and DVI connection available for each.
Additionally, depending on which GPU you choose, you may get several extra ports.
Features Not Included
The ASUS E500 G5 workstation's twin Ethernet slot provides greater bandwidth, which is useful for tasks that need a strong Internet connection.
Among the pre-installed applications is the ASUS Control Center, which is required to get information about the desktop.
This information may be accessed from another mobile device, such as your smartphone, using the app.
When used in a small company or any other financial industry, the desktop also comes with specific characteristics that make it even more helpful and safe.
It also comes with everything you'll need to create professional-quality graphics.
Depending on the kind of GPU you want to install, you have three PSU options: 300W, 500W, or 700W. As a result, professional video cards with large TDPs may easily be added to this workstation.
We recommend getting the 500W, if not the 700W, from the start to ensure that a GPU upgrade goes easily.
Specs:
What Are People Saying About the Asus E500 G5 Workstation?
Buyers of prebuilt workstations are fewer than those of consumer-grade workstations.
However, their numbers have risen in recent years as a result of the many companies' excellent offerings.
The ASUS E500 is an excellent choice, as you may have read in our review, but user reviews are equally essential.
Its design and the fact that it isn't overly hefty or large in terms of size appealed to the purchasers.
Even so, it supports a wide range of hardware, as well as a wide range of extensions and upgrades.
Performance-wise, there were no significant issues, and the Xeon CPUs' dependability is undeniable.
Those who didn't need the capabilities of a server-class CPU opted for the more popular Intel Core processors, which did not disappoint.
Because of the strong GPU support, this workstation may be utilized for a wide range of applications, both professional and non-professional.
Furthermore, the gadget has extremely important security measures, ensuring that customers' data was safe.
Even with all of that, some users hoped the desktop's pricing wasn't as high as it is. Take a look at the E500 G5 manual.
This isn't a major disadvantage since workstations, regardless of manufacturer, are costly equipment.
Better Xeon choices, on the other hand, would have wowed a couple of the purchasers even more.
Expert Opinions from Others
About Author